Company Profile
Management Philosophy
"Supporting Global Infrastructure from Materials"
Technology such as computers, transportation, medicine, energy, information equipment etc. seems to be developing without limits, and continuing on to the next stage.
However, there are various obstacles to progress to the next stage. The higher the performance and the smaller the computer is, the more heat it generates, and conventional heat exhaust methods prevent us from going to the next stage.
In addition, high-speed transportation methods such as bullet trains and airplanes are always required to have high speed, but as the speed increases, accuracy and reinforcement are required from brakes, bodies, and more down to the small parts.In order to create higher-performance computers, higher-speed transportation, and higher-performance and safer things, materials that can handle high-performance and high-speed are required.
We, Advanced Composite Corporation can produce various composite metals, making use of the world's number one molten metal forging technology.
And the composite metal we produce is the one and only material with the accuracy and performance that is essential for all technologies in the world to evolve to the next stage.
Environmental problems such as global warming are said to have already exceeded their limits. The world is in an emergency and needs to tackle environmental problems on a global scale.
We think that we can control the heat generated on the earth by replacing extremely high heat dissipation composite materials in ordinary items such as lighting, home appliances and computers. And we believe that our company's strong, energy efficient materials can reduce excess energy generation by being used in all products.By having our materials used by many entrepreneurs around the world, we would like to work with you to improve the global environment with more energy efficient and ecological company activities.
"Supporting the infrastructure of the earth from materials," Under this corporate philosophy, we contribute to the better life of human beings and the development of an earth-friendly society by providing superior materials to all over the world.
Please watch us over the next 10 years.
Company Profile
Company Name
Advanced Composite Corporation
Location
Head Office:  2259-9 Obuchi, Fuji City, Shizuoka Prefecture
Fuji Office: 2259-9 Obuchi, Fuji City, Shizuoka Prefecture
Phone number
(+81)545-32-7904
Fax number
(+81)545-32-7905
Date of Establishment
July 22, 2015
Capital amount
200 million yen
Representative
Takatoshi Shoji
Business Content
Development, manufacture and sales of ceramics and carbon related chemical products
Development, manufacture and sale of nonferrous metal products combined with ceramics and carbon
Development, manufacture and sale of various products that use the above items as heat dissipation
Development, manufacture and sale of high pressure cast metals
Real estate trading, leasing, management and mediation, and management consulting services
Industrial machinery trading, agency, and brokerage
Sales of information and technology related to the above items
Material List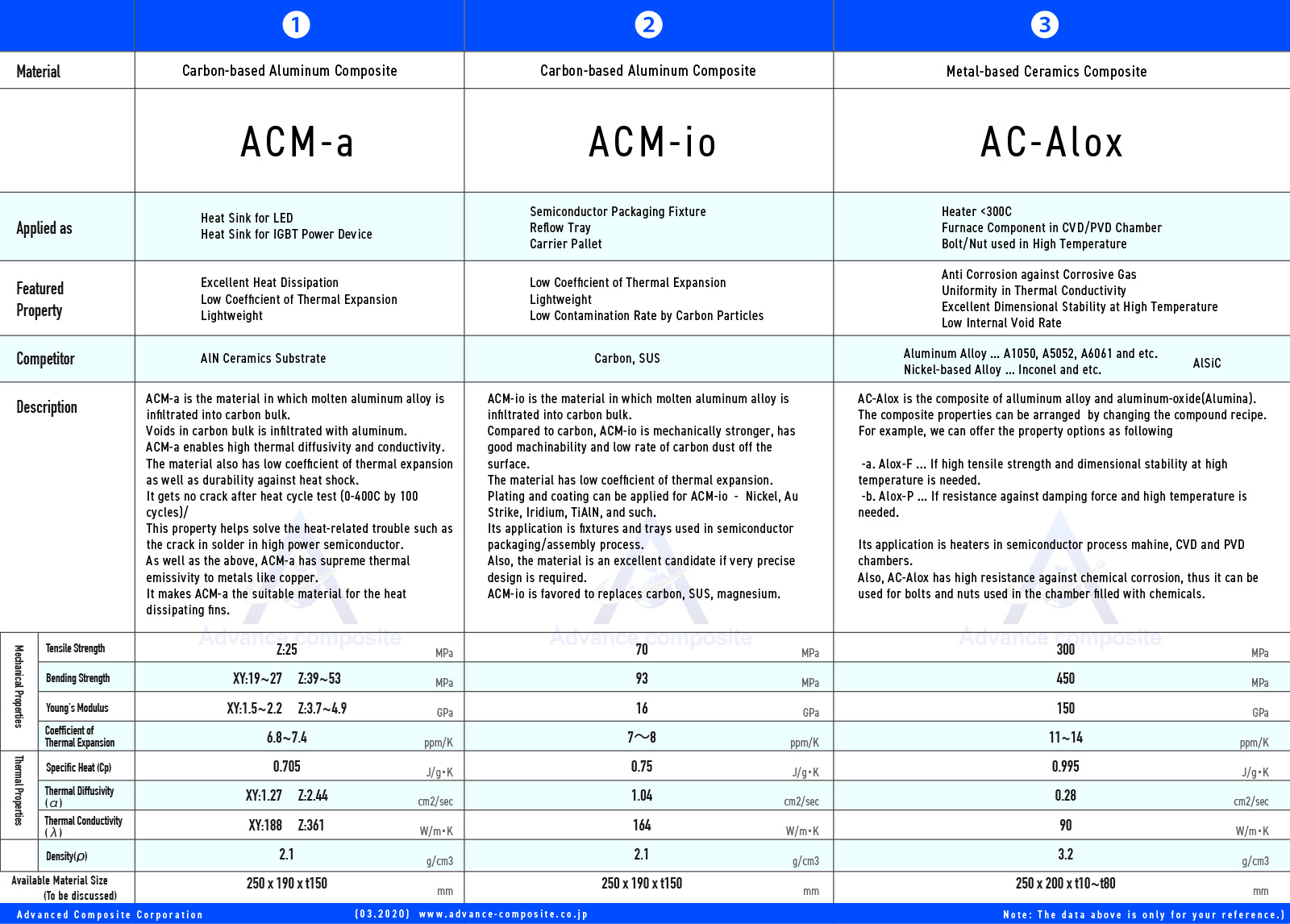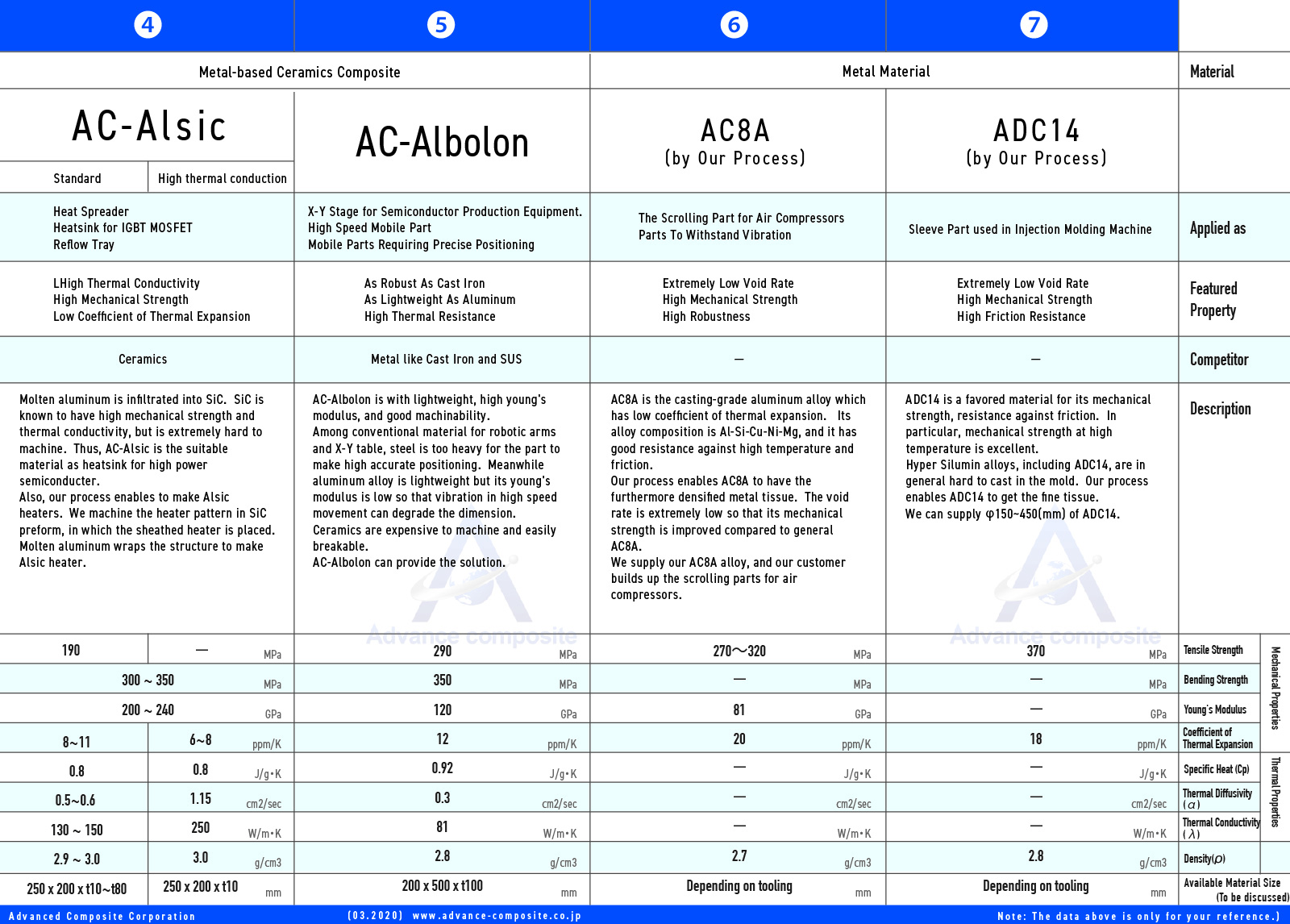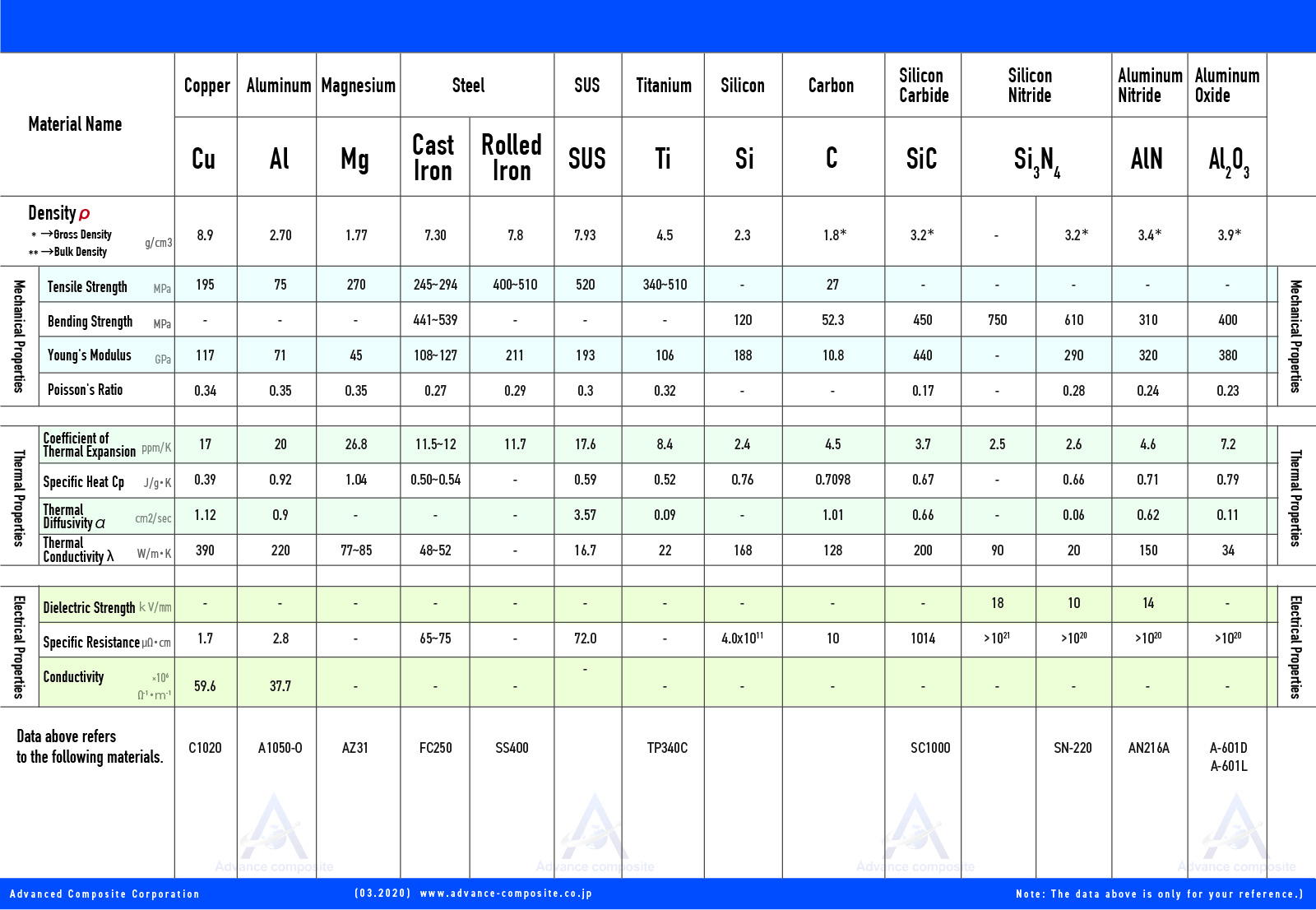 We are a company that provides high quality aluminum with very few cavities, few internal defects, and high fatigue strength through a molten metal forging method (high pressure casting technology).
Also, as an applied technology of the molten metal forging method, we develop and mass-produce a completely new composite material that is made by impregnating aluminum at high pressure into a preform made of ceramics etc.,


Ceramic materials include SiC, alumina fiber blocks, boron and graphite. Among the "ACM series", especially those made by impregnating graphite with aluminum, ACM-a has been used as a heat dissipation system material for power module substrates such as IGBTs, and ACM-io has a track record as a carbon jig or a substitute material of SUS jig.
Aluminum alloys (A1050, A5052, A6063, AC3A, AC8A, ADC14, etc.) are mainly used as the matrix metal.Copper (C1020, OFC etc) is also possible high-frequency dielectric melting furnace
We apply these technologies to develop and manufacture the following.
 Carbon-based aluminum composite heater for semiconductor devices with good thermal uniformity and small coefficient of thermal expansion (patent pending)
 LED module with high heat dissipation method and strong for heat cycle (ACM-a use: Joint development with partner companies)
 A carbon-basedisu aluminum composite material (ACM-io) that enables plating that has cleared the dust problem from carbon jigs or the problem of the thermal expansion coefficient of SUS jigs
 X-Y table (Albolon 14) that is lighter than iron and has a high young's modulus and high positioning accuracy
 Large piston sleeve with high fatigue strength with almost no cavities (Molten metal forging aluminum ADC14)

We also lend high pressure presses, and we have requests for resin molding.
Please do not hesitate to contact us.
If you would like to develop a completely new composite material or have problems with existing materials, we are very happy to work with you.
Also those who work at companies, universities, and research institutes, and have problems with materials, we are happy to hear from you.